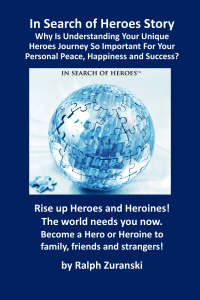 As a Christmas gift to everyone, I am giving away my "In Search of Heroes Story: Why Is Understanding Your Unique Heroes Journey So Important For Your Personal Peace, Happiness and Success?" book, FREE until December 20th at midnight. Learn how to honor the heroes and heroines in your life.
Click Here to download my eBook until Wednesday, December 20 at midnight.
After researching heroes, heroism and the heroes journey for 50 years, I finally completed my "In Search of Heroes Story." In the book I mentioned the names of all the hundreds of people who are charity, entrepreneur, family, health, internet, military, sports, spiritual and volunteer heroes and heroines.
Isn't it time we started thanking the heroes in our lives and spreading the "Good News" on Facebook, Twitter, Instagram. Let's start a viral wave of good feelings to counteract all the "Bad News."