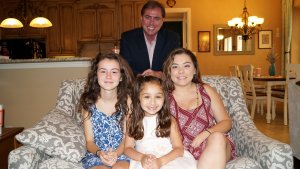 As a special gift to all my Facebook friends, I am giving away for FREE for 5 days, from Jan 25 through Jan 29, the "In Search of Heroes Program Story: John Griffith: Author of the Book "A Dad's Fun Guide to Raising Happy Daughters" Kindle Edition. Here is the download link: https://www.amazon.com/dp/B07729R6PL
A couple of years ago, I had the opportunity to meet John Griffith. He was impressed with my "In Search of Heroes" program. He hired me to be his personal heroes coach and edit his book "A Dad's Fun Guide to Raising Happy Daughters."
After working with John over the last two years, I realized he is a unique, single father-hero role model. His insights helped me gain an appreciation, admiration, and respect for single and married fathers, who are actively engaged in the raising their children. The daily challenge to provide food, clothing, shelter, education, entertainment, guidance, inspiration, and most importantly unconditional love, is astounding.
John opened my mind to an entirely new perspective on heroism. His story about raising three daughters is profound. John helped me better understand the love, sacrifice and wisdom necessary to raise children in this new millennium.
His book is not just for dads. It is also valuable for moms, aunts and uncles raising nieces and nephews, grandparents raising grandkids, teachers, counselors, probation officers, and people of faith. If you are raising or mentoring one or more children, this book provides you with valuable advice, tips, tools, exercises and most importantly, encouragement.
Raising healthy and happy children has never been more difficult and important, than it is today. John Griffith knows this, and that is why I have honored him as a hero; a title he has difficulty accepting.
There is no greater achievement for a father than teaching his daughter the keys to happiness. From there, the life she lives is boundless with possibilities. Today's societal landscape makes this achievement both very difficult and necessary.
The voice of today's society – the media – (unintentionally) works against happiness. There is a constant, streaming bombardment of "Bad News." Young girls are encouraged to find power in sexuality, suffering and entitlement.
Addictive behavior is sensationalized and glamorized. Many in the media promote lying, deception, and revenge as acceptable, and sometimes morally and politically expedient. Sadly, some teach how to get away with murder.
As a parent, you begin to wonder where are the messages about the amazing power of choice, personal responsibility, and accountability? Why isn't every young girl told she is responsible for her own happiness?
The impact a father has upon his daughter – especially during these modern times – is both profound and immense. Fathers can't do much about the focus of the media. Smut sells. But it is not the media's duty to provide daughters with the tools necessary for a happy life.
Unfortunately, many fathers miss this opportunity. And, that is exactly why John Griffith's mission is to teach men how to be better fathers and especially dads raising daughters. What an awesome opportunity!
John's book is a dad's fun guide, on how to teach their daughters to remain happy as they grow older in these modern times. But it is more. It is a testimony of a father hero, and his amazing journey of fatherhood.
John has inspired me to reactivate the "In Search of Heroes" research program. I wanted to ask all the heroes and heroines I interviewed over 50 years if there is still a "heroes gap" between dads and moms. I am excited to find out if they want to change their answers to the heroes' questions.
John's "In Search of Heroes Story" is the first in the "In Search of Heroes Stories" series of books about individuals who inspired me to live a heroic life. It is time to share their unique stories to inspire others to choose to be heroes and heroines to their family and friends.
The world is facing unprecedented crises. Wars, threats of war, murders, racism, hatred, envy, anger, and drug and alcohol addiction are creating levels of fear never before experienced in our world. It is time we all started looking for the good in each person. We need to learn how to love our enemies.